WHY OPT FOR THE
SANITAS™

PLATFORM?
MAXIMIZE YOUR RETURNS
Choose to be a part of Sanitas network and increase your revenue and patient experience by minimizing your cost.
LOW COST OF OWNERSHIP
Built on open-source technology, it avoids the need for software licenses and can be used on basic desktops.
INTEGRATION CAPABILITIES
Out of the box integrations to mobile money, claim processing systems, lab equipment, imaging & DHIS2.
EASY TO USE & LEARN
Simple and user friendly features that allow new users to quickly start using the software with ease.
CLOUD ENABLED
SaaS platform available on web, desktop, and mobile devices No expensive hardware. No managing the IT infrastructure.
MULTI CENTER
One of the very few solutions that supports multi center operations, Scalable solution that grows with you as your hospital expands.
COMPREHENSIVE REPORTS
Inbuilt business intelligence and analytics module with the capability to create dynamic reports to enable you to make critical informed decisions.
CUSTOM WORKFLOWS
End-to-end care coordination with configurable user workflows to suit the preference for your facility.
QUICK IMPLEMENTATION
Browser-based tool avoids the need to load software on individual systems.
WHY CHOOSE TO PARTNER WITH
FORTIS

?

At Fortis, we combine advanced technology with simple design so the technology fades to the background, allowing you to focus on what really matters — delivering the best patient care.
ONE GLOBAL PRODUCT
One product across the Globe, so that we we bring in innovation and new updates across all the installations, irrespective of any region.
A1 CHANGE MANAGEMENT
Wherever frequent changes needed, we have the process automated right from the start (Change Request / Issue Tickets) to change delivery stage. Our remote client management tools reduce the need for onsite human intervention.
FREE REGULAR UPDATES
We offer free regular updates which touch on new features, improving existing ones and security. This ensures that you have the latest cutting edge tools to enhance your productivity and client experience.
CUSTOMIZALBE WORKFLOWS
Our configurable software modules are designed to mirror the way you work, not change it. View the patient's continuous care journey, rather than by each episode of care.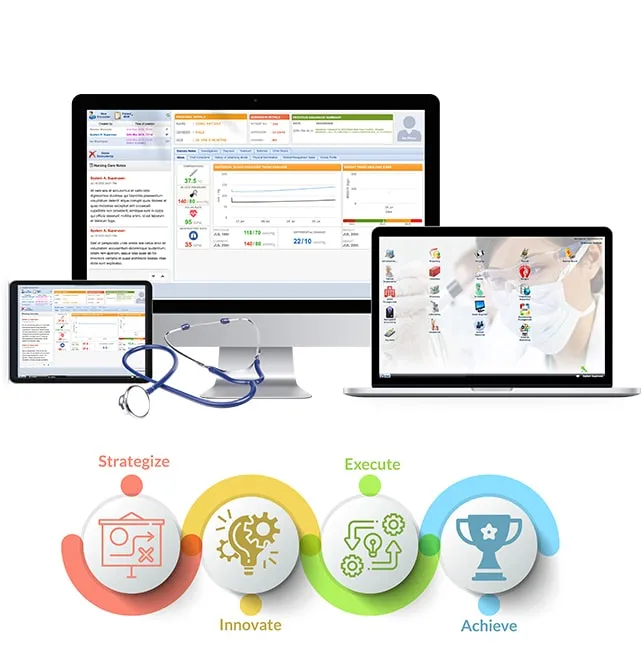 CLIENTS TESTIMONIALS ON
SANITAS™
Among the objectives that Fortis Innovations was contracted helped us achieve was wall to wall automation of the various operations touching on the inpatient and outpatient processes. We are extremely satisfied with their professionalism and timely support that they have accorded us thus far.

Robert Mose
Hosital Admininistrator
Busia County Hospital
Upon rollout of Sanitas HMIS in December 2013, the hospital has since witnessed some immediate benefits which includes; Fast & controlled access to information, improved process flows and improved accountability.

Catherine Munene
Chief Executive Officer
PCEA Chogoria Hospital
Thanks to Fortis, the care givers here at the hospital, now focus more time on delivering quality healthcare services to it's clientele. Their professionalism and competence has seen the hospital roll out an impressive platform (Sanitas HMIS) to manage all aspects of delivery and management processes.

Dr. Janerose Ambuchi
Medical Superintendent
Busia County Referral Hospital.